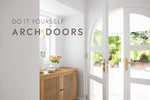 DO IT YOURSELF: ARCH DOORS
 Have you been dreaming of adding a touch of Old-World charm to your home?Then it's a great thing that Arches are making a comeback big time.
Indoor arches are the most sought-after architectural feature of 2022 and no wonder.
Arches are a gift to the design-conscious home dweller – even if you do nothing special to this characterful feature, it adds a romantic feel to any space.
They also visually draw attention to the height of your walls, making any room look more spacious.
Design Decisions to Make Your Arch Stand Out
Whether it's part of a hallway, living room, or even entrance an arch instantly elevates a space.
But why settle for a plain white arch when there are so many design options to make it stand out even more? Consider painting the arch a different color or wallpapering the surrounding wall for a contrasting effect. As Interior Designer Ruth suggests, "Combining paint and wallpaper is a fantastic way of highlighting an arch."
Consider the view through an archway and use it to frame a contrasting color or a burst of pattern for a touch of drama. Highlight architectural detailing in a deeper bolder shade or one picked out from a wallpaper pattern.'
We looked at implementing arch doors for that extra special feature but found them incredibly expensive and daunting, well we are here to change all of that.
DIY Archway Installation
What about the cost and hassle of installing an archway? Hardware concepts is introducing complete, affordable arch doors to Australia that are easy to install. Follow these steps for a successful DIY archway installation
First start by measuring out your existing doorway after removing all existing framing, as framing is included with our doors . Measure out your door plus door frame to work out the space you will need for the door to fit .
Keep in mind that approximately 3mm clearance is required for the top and sides of the door and 5mm for the bottom, above the floor covering.
The point to remember is that you have to attach the arch door frame to hold the door so you need to add anchor points on either side of the rectangular opening, more if it is a larger opening, if it not big enough you may have to cut, making sure that what your cutting isn't structural .
One of the stronger avenues to take  (keeping in mind you also have to fill in the plaster that surrounds your door and that needs a few points of attachment ) is to build the arch corner pieces using ply and framing timber to create your arch, you can use the provided arch frame to work out shape.
Once you have front and back shape you can attach front to back adding several cut pieces of wood on the inside of curve as per picture, making sure it stays a size flush to your existing frame minus plaster.
Keep checking measurements for opening to allow for framing and door.
Once you have your arch and correct opening start attaching your frame.
Start with both base sides making sure they are level sides and top and if levels are correct add your arch frame piece, repair plaster and you are ready to hang the door .
With these easy steps and affordable options, there's no excuse not to upgrade your home with the timeless charm of an archway.
Don't miss out on the opportunity to add a touch of elegance to your home with affordable, easy-to-install arch doors from Hardware Concepts. Visit our website today to learn more about our options and place your order!